Posts tagged
Starters
Please give a warm welcome to author Lissa Price whose book Starters, a sci-fi thriller for young-adults, hits bookstores and libraries this month! Starters is the first in a duology of books (the second is Enders, due out December 12th), and it has a rip-roaring pace full of twists and turns galore. We met with Lissa after a shared event she had with fellow debut author Marissa Meyer (Cinder), and it was very clear what a huge fan of YA literature she is!
If you're new to Starters, be sure to check out our review. Also check out John Scalzi's blog where Lissa writes about how she got the idea for the series. Here's a teaser:
My Big Idea was that in the future, desperate teens would rent out their bodies to rich seniors who could then enjoy being young again. It came to me in Costco, a few years ago. Trying to get a flu shot.
________________________________________________________________________
Thanks so much for meeting with us! I'd just like to say that I really enjoyed Starters, and the way you set the pace was fantastic. You talked about some of the inspiration for Starters coming from The Hunger Games by Suzanne Collins and Uglies by Scott Westerfeld. Did you have other literary inspirations?
I'm glad you asked that – Catherine Fisher's Incarceron. I love that book! I am probably more passionate about that than the other two, partly because a lot of people haven't read it and don't know about it (even though it's being developed into a film by Hugh Jackman's company). I think she came up with such an amazing world. [Fisher] managed to get part of the old world in there but make everything new. I love different levels of reality–that's my thing (Memento, Inception, The Matrix)–so, I love Incarceron. (more…)
Starters by Lissa Price (book one in Starters series)

Review based on an Advanced Reading Copy (ARC)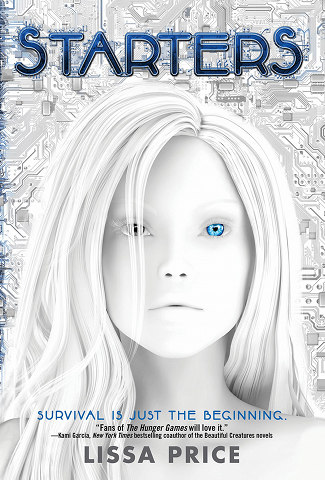 In a dystopian world in which only the very old and very young have survived, sixteen-year-old Callie is trying to make it on the streets while taking care of her sick younger brother. After the Spore Wars tore the country apart–only the weakest members of society, old and young, received the limited vaccine and survived–there was a strong division between rich and poor. Starters (the young) have virtually no rights, while Enders (adults age sixty through their hundreds) control all. Callie is an unclaimed Starter, legally unable to take a job and with no surviving parents or grandparents as guardian, giving her and her brother little choice but to squat in abandoned buildings to avoid being rounded up and sent to a terrible institutions.
When Callie hears of a company willing to pay Starters under the table, she ends up at Prime Destinations where, with the technology of a neurochip, Elders can "rent" the bodies of Starters for recreation and be young again. Creepy? Yes. Easy money? So it seems. But when Callie's neurochip malfunctions and she wakes up in the middle of a rental–in her own body but with the belongings and credentials of a wealthy Ender–she discovers that she has been rented for a malicious, illegal purpose, and the high-suspense race to the truth begins. (more…)